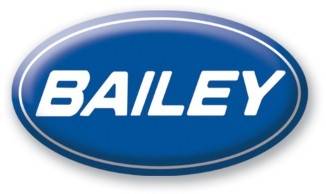 New Bailey Motorhomes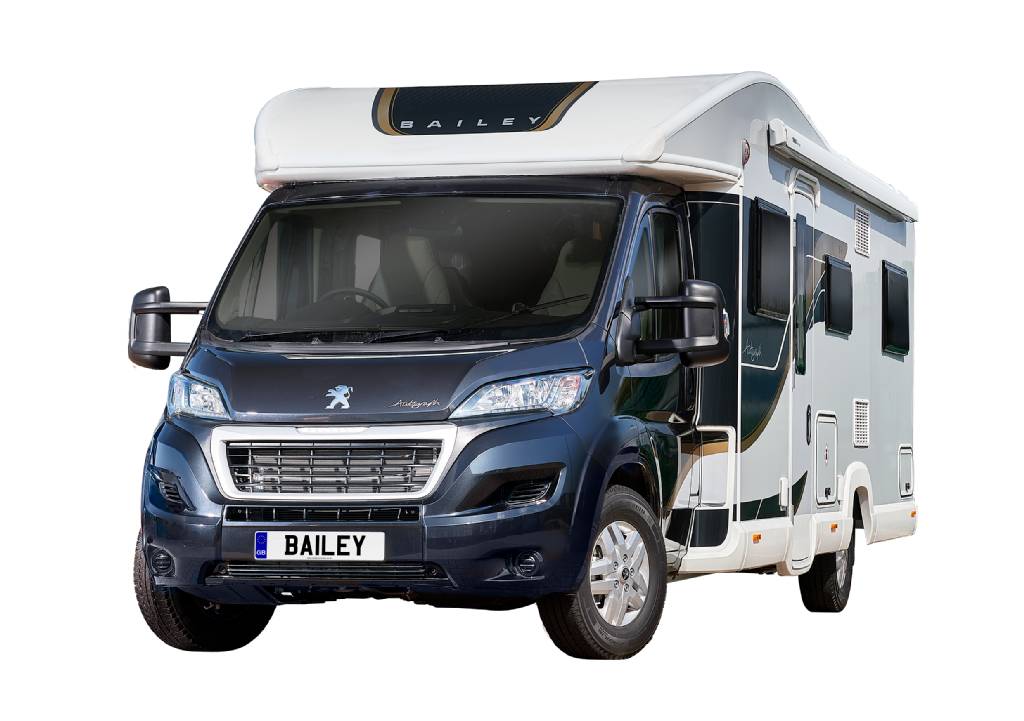 Bailey Autograph
The Bailey Autograph kicks off our new Bailey motorhomes range. The Autograph is complete with a cosy cabin, comfortable sleeping accommodation and ample storage, making the new Bailey Autograph ideal for any fun family adventure. The Bailey Autograph motorhome has eight layouts for up to six people. Using a Peugeot Boxer 2.2-litre HDi engine, the Bailey Autograph offers powerful performance of up to 165bhp. All new Bailey motorhomes are lightweight with an AL-KO AMC chassis to enable a larger payload. The extra-wide bodyshell on the Bailey Autograph gives you an MTPLM of between 3,500kg and 4,250kg.
The Bailey Autograph boasts cruise control, air conditioning and a reversing camera to ensure comfortable driving and family safety. The Autograph is perfect for use in all weathers, with an ALDE radiator central heating system, so you can always be cosy and warm – all year round. The Bailey Autograph motorhome comes with a Thetford Caprice combination oven, grill, gas hob and electric hotplate, as well as a Dometic fridge freezer with dual-hinged door (model dependent). If you're looking to explore more remote areas of the great outdoors, the Autograph also has a Truma 100-watt solar panel for off-grid holidays.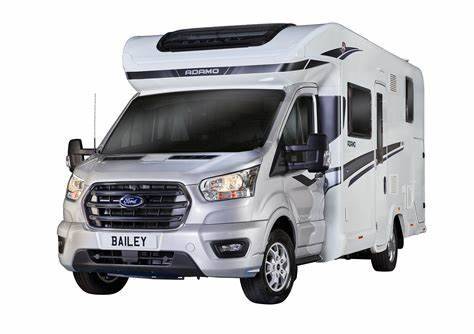 Bailey Adamo
The Bailey Adamo has a Ford chassis and cab with an automatic transmission, which makes driving simple and stress-free. The Bailey Adamo comes with five different layouts and exterior garage storage. With a practical design, the Adamo is the perfect travel companion for every adventure. The Bailey Adamo has five configurations that can accommodate up to eight people, with four travelling seats – offering plenty of space for all the family. With a Truma Combi 4 heating system, the new Bailey Adamo motorhome is supremely comfortable all year long.
The Adamo's flexi-lounge configuration allows for more space, and all new Bailey motorhomes have excellent storage space. For your convenience, you will also find interior home comforts such as a Thetford K series combined oven, grill, gas hob and electric hotplate. The Bailey Adamo also has comfortable living and sleeping arrangements, plus electric-powered drop-down beds (depending on the model). To find out more about the Bailey Adamo, contact our team at Cranham Leisure. Our team can show you around and answer any questions you may have about new Bailey motorhomes.