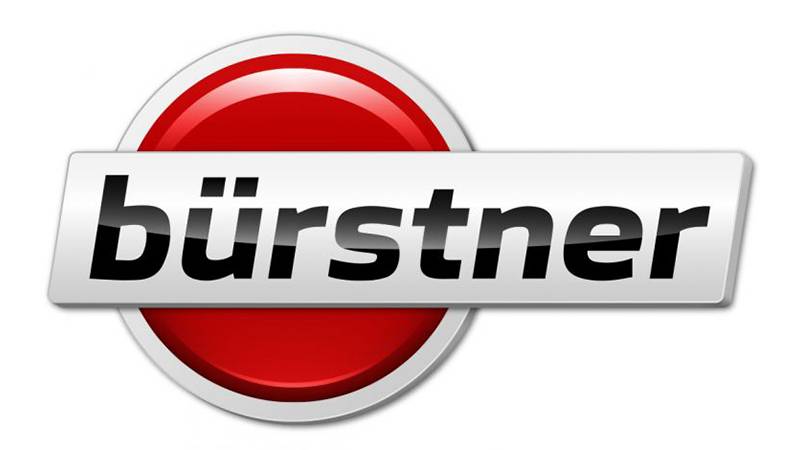 New Burstner Motorhomes
Low profile motorhomes are compact, which helps with fuel efficiency and makes it much easier to manoeuvre and park in places where there is limited space. While many low profile motorhomes may seem cramped by the exterior dimensions, they are in fact deceptively spacious and comfortable on the inside. This is because it's not necessary to add any additional features to fill up the extra space or change the design for lower clearance requirements.
Integrated
Integrated motorhomes offer the best of both worlds. They're striking looking, with a sleek design that impresses and is better than any other type of motorhome. At the same time, they offer unlimited living comfort, since there's no screen or barrier between the cab and interior living space. These amazing motorhomes are incredibly spacious and come equipped with luxurious features, including ample storage space for ultimate convenience.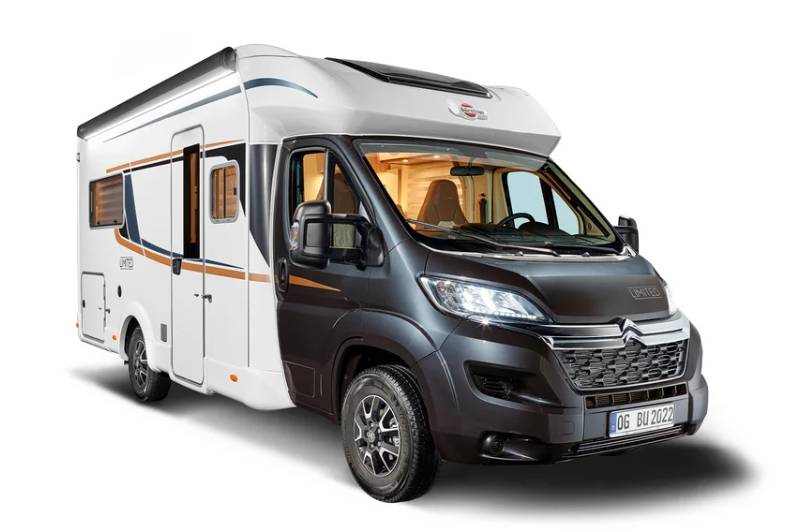 Bürstner Limited T
Experience the Limited T, the classic low profile motorhome with exclusive features, equipment and spacious habitation areas – discover it today!
For an instant holiday mood
The exclusive, dynamic exterior graphics already hint at what it's all about. With this low profile motorhome, you're always ready to take off whenever you want to. Simply taking a look inside shows you all you need to know when it comes to  travelling extremely well-equipped. The inviting French bed (model dependent) alone promises exceptional sleeping comfort.
Need more berths? No problem! A drop-down bed, which has become a signature Bürstner innovation in low profile motorhomes, is an attractive optional feature across all layouts. Many of this motorhome's other clever and functional details come as standard, including the home-style Vario washroom and a sunroof for plenty of interior light.
Relaxation made easy
The Bürstner range gives you a relaxing home-from-home feeling, thanks to the generously-sized lounge and kitchen area that make it easy to unwind.
Stay connected
Escape from everyday life, but not cut off from the world; thanks to the Oyster Connect aerial system, you can enjoy Wi-Fi wherever you want.
Additional benefits interior
Up to five seats equipped with seat belts.
Up to five sleeping berths.
Mid-vehicle dinette can be converted into a bed.
Interior headroom height: 212cm.
Large 142 litre refrigerator.
All bed versions come with multi-zone cold foam mattresses.
Indirect lighting.
Additional benefits exterior
Premium XL habitation door with 2-point locking system, window, central locking, fly screen and waste bin.
Front spoiler painted the same colour as the vehicle.
GRP roof offers better protection against hail and inclement weather.
Sunroof, manual erection, with blackout blinds and fly screen.
Roof vents equipped with blackout blinds and cassette fly screens in the living, sleeping and washroom areas.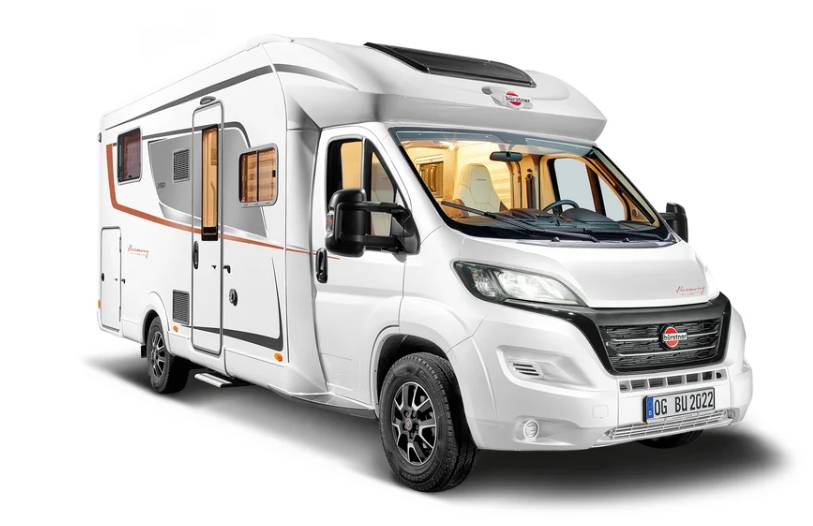 Bürstner Lyseo TD Harmony Line
Experience the Bürstner Lyseo TD in the elegant Harmony Line design, the low profile motorhome best-seller; suitable for all year round use. Discover the range today!
Where #wohnfühlen begins
Every Bürstner motorhome comes with the distinctive Lyseo TD features that have helped to create the ultimate home away from home. A sensibly designed interior, space-saving solutions and a wide choice of layouts make it a one-of-a-kind experience. With our new Harmony Line, you'll experience an elegant exterior and all the luxuries of modern camper vans in each Bürstner Lyseo TD. You deserve the best – and we've delivered.
Additional benefits interior
Spacious look
Everything on one level, from cab to bedroom
Interior headroom approx. 205 cm
All fixed bed models also available with additional drop-down bed (already a standard feature in the 644 G and 680 G)
Upholstery in the exclusive Harmony Line design
Fully-equipped kitchen including coffee capsule holder
Additional benefits exterior
ABS
Special finish cab painted "White"
Cruise control with speed limiter
Second garage door
Premium XL habitation door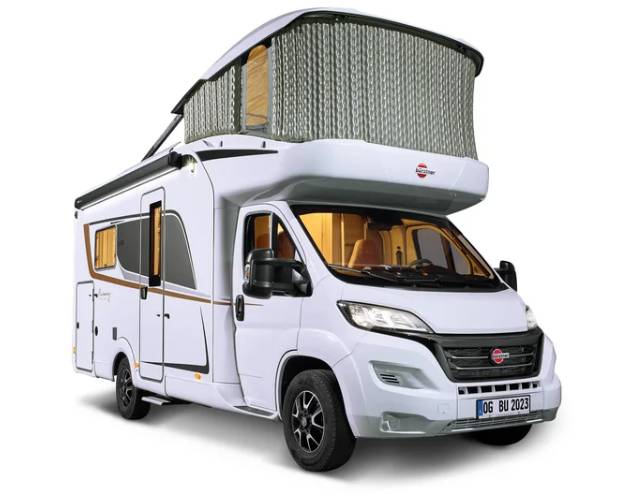 Bürstner Lyseo Gallery TD Harmony Line
A small home doesn't have to be a bad thing! The Lyseo integrated semi-detached TD has insulated sandwich construction throughout and an inflatable over-cab bedroom giving you all the space you could ever need in a compact motorhome.
Over-cab motorhome with #Wohnfühl-Thermo-Floor
The Bürstner Lyseo Gallery prototype marked a turning point in the history of over-cab bed motorhomes. Made with insulation and high quality materials that provide comfort underfoot, this range includes a choice of two compact layouts to match its 'Gallery' sibling. Find out more about Bürstner's latest project now!
The first thing you see when looking at this motorhome is the exterior, which has a number of forward-thinking design details that help it stand out. As you look inside, the striking diamond-quilted upholstery and designer wall panel in the kitchen are highlights that help to set this vehicle apart.
Unique living comfort on two levels
Bürstner's new over-cab bed motorhome offers a new way to travel. Throughout the room, there are so many impressive details just waiting to be discovered. Fancy a tour of the space?
Standard kitchen offers plenty of storage space
Both of the available Bürstner Lyseo Gallery TD layouts are equipped with a large hob and open kitchen area. Depending on the model, you'll find either a 142- or 175-litre capacity compressor refrigerator that provides room for fresh food during your travels.
Multitasking out of bed
Bürstner's gallery roof construction means a second living level with comfy bed and table space, which is perfect for surfing the net or even sleeping.
Further #wohnfühlen home away from home feel highlights
The Light Pack, home light battery operated lights and the hinged sunroof all help create a comfortable lighting mood in the Gallery TD's second level. The stairs leading up to it are also illuminated.
Insulated sandwich construction floor
The insulated sandwich construction of the floor gives a warm and comforting feel. You could even go barefoot if you wanted to!
Additional benefits interior
Second living level with workspace and additional sleeping berth
Fixed stairs with integrated storage compartments
Stylish bar element with wall light (Home Light) and docking station
Spacious rear washroom with a separate shower and a large wardrobe (T 689 G) or a space-saving Vario washroom (T 649 G)
Ergonomically designed access to the washroom, large garage, bed and living room area
Curved rear lounge with conversion option and optional drop-down bed for additional berths (T 649 G)
2 inviting entrance elements (right and left)
Exclusive and coordinated lighting concept
Additional battery light "Home Light" (2 pieces)
Leather steering wheel and leather gear knob
Upholstery with "Harmony Line" embroidery
Sun-roof that can be raised, with fly protection and blackout blind
EXTERIOR FEATURES
Over-cab bed motorhome with a height of 3.7 metres
With the alcove, you can park and elevate your motorhome in 90 seconds with just a few pumps of compressed air. What's great is that the over-cab area isn't angled like a typical pop-top roof but offers a second living floor with a homely feel.
Additional benefits exterior
Redesigned T-hood with integrated folding roof and an electric locking system (whilst driving)
Hybrid rear lights
Service unit
Premium XL cabin door including central locking for driver and cabin door, window, fly screen and charging station for "Home Light"
Thermo-double floor
Garage door also on the left in the direction of travel
Rear bumper with chrome application
Exterior mirrors electrically adjustable and heated
Headlights with black frame
16″ alloy wheels
High-quality exterior graphics "Harmony Line"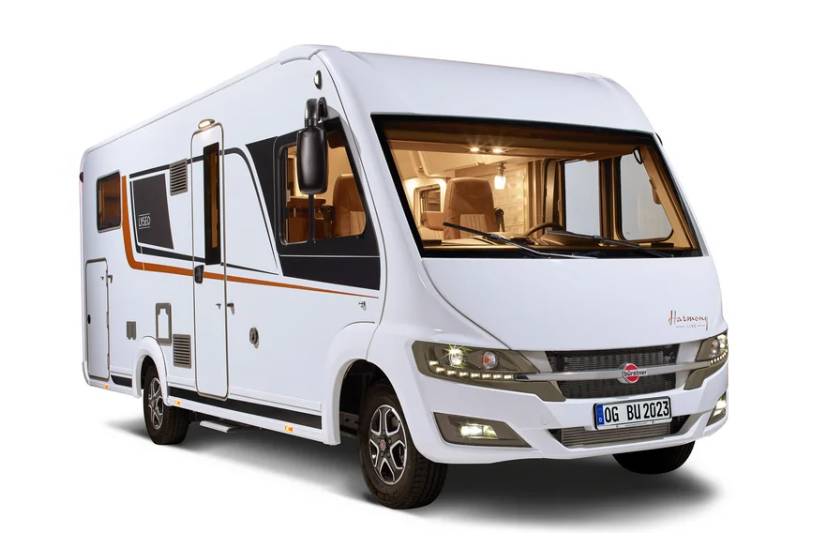 Bürstner Lyseo I Harmony Line
Nordic air, sumptuous design, and impeccable craftsmanship combine to create a prestigious motor coach in the name of the Bürstner Lyseo I. Featuring cavernous interior space and unparalleled ergonomic comfort, you'll love everything about this luxury coach.
The new a-class motorhome for an even more spacious feel
The new Bürstner Lyseo I is the perfect piece of mobile art. As a mid-price point motorhome built on a Fiat Ducato base, this newcomer impresses with its high-quality features and cosy interior design. The vehicle is also available in five impressive layouts, each designed to accommodate up to four people, with a signature Bürstner electric drop-down bed and aerated sandwich construction floors. However, that's not all either! There are many other highlights awaiting you throughout the habitation too!
Cosy interior concept for maximum comfort
The Bürstner Lyseo I offers top of the range comfort and ergonomic design. In the visual sense, you'll be immediately drawn in by the beautifully carved cabinetry in Sandy Grey or Vero Black, as well as sophisticated textile fabrics. Equally impressive is the generous passage from the washroom to the bed and living area.
From single bed to drop-down bed
All of the five layouts in the Bürstner Lyseo I series offer a comfortable sleeping solution. Sometimes it's a single bed in one of the layouts, or a queen-size bed in another. The final layout has a more traditional drop-down bed as well. From luxury to economical, all the Bürstner Lyseo I layouts give you plenty of space for all your #wohnfuehlen needs.
Separate spacious washroom included
The spacious washroom in our I 727 G, I 736 G and I 744 G is a highlight of the home. This large shower, modern shower head and separate toilet make bathroom routines enjoyable again.
Unrestricted movement throughout the interior
You'll love the bright, modern, and inviting features of this motorhome. The generous-sized design of all the access routes makes it quick and easy to get anywhere in the Bürstner Lyseo I. All shelves and storage compartments are easy to reach, too. Plus they're placed ergonomically so that your travelling utensils are always handy.
Large drop-down bed over the cab
The drop-down bed rolls neatly into the loft of the Bürstner Lyseo I range. Always in a large, open space, the bed is easy to access, ready for you to reach a new level of comfort as you make your way up the ladder for the bets night's sleep.
Rear garage provides additional storage space
The Bürstner Lyseo I is surprisingly spacious. In the rear, the layout I 690 G and 727 G have XXL garage doors with a ton of storage space underneath the single beds. Whether luggage, mountain bikes or beach chairs, we've got you covered.
Additional benefits interior
Generous seating and sleeping options included in all models
Rear lounge in the I 744 G
Drop-down bed above the cab (standard in all models)
Ergonomically positioned shelves/storage compartments, respectively adapted access routes to bed, washroom and living area, shaped seating
Rear garage in the 690 G and the I 727 G with large garage doors
Even floor with storage
Additional benefits exterior
Redesigned front with a large windscreen, headlight housings in a contrasting colour, single integrated LED daytime running lights
Smooth side walls without aprons
Wide habitation door
Bürstner hybrid tail lights
Gas bottle compartment at an ergonomic height for easy loading and unloading
Bürstner Elegance
Bürstner is all about experience. With luxurious equipment, high-quality design and sleek style, our premium motorhome is the perfect getaway for any expedition. We invite you to discover how Bürstner delivers on both comfort and style.
More room for your dreams
The Bürstner Elegance makes a statement: your comfort and travel are paramount, and you value generous decoration and space. Relax amongst Bürstner home comforts, with so many practical features included in this integrated motorhome range. Ergonomically designed and elegantly furnished down to the smallest details, we want you to feel secure. Your #wohnfühlen home-from-home ambience is always guaranteed with us.
Room for life's luxuries
With table space big enough to work on, and versatile enough to move in any direction, the Elegance is exceptionally generous. Add a swivel TV bracket for monitors up 32″ in size, and this is the perfect desk for any business.
Room for luxuries
While we offer an assortment of other luxury services, the Bürstner Elegance is about more than just lovely furnishings. For us, it means leaving no detail untouched to turn your trip into an enjoyable and comfortable experience. Absolute Elegance at its finest!
Generous space for relaxation
Whether you're looking for a drop-down bed or a royal suite: the substantial space inside the Bürstner Elegance means you can completely relax and unwind. When you get back from your holiday, you'll "live" your day even more.
When you want your own personal luxury villa in the city, this is the unit for you! Once lowered, the elevated comfort of a south-facing electric drop-down sofa bed awaits you. Get ready to experience true sleeping comfort, helping you to feel refreshed for a busy day ahead.
Unwinding
When you walk into the Bürstner Elegance, unobtrusive lighting gives it a soothing mood that makes this space worth relaxing in. Shadows from indirect light creates balance and highlights the well-designed architecture without being too glaring.
Enjoyable moments
Fresh herbs, baked farmhouse bread, and other specialties are available for those who want to really enjoy the sights and sounds of a new place. But it's important to have a spacious apartment that can store all your cooking needs. Our kitchen is equipped with standard features such as a 177 litre refrigerator with a vegetable drawer and 35 litre freezer compartment, a pull out storage compartment with extra wide soft-close drawers.
A place for everything, and everything in its place
The Bürstner Elegance offers you a variety of storage options to provide ample room for your personal belongings. This could include things like clothes, toiletries, or souvenirs. Providing more than enough space has never been easier!
More convenience and freedom
A standard feature in only a Bürstner: the new iNDUS toilet, combining luxury and practicality. It features a smart, fully automatic sanitation system that almost takes care of itself! The resource-saving concept treats grey water by adding chemicals and then uses this water for flushing, which gives two people complete independence up to seven days. The system notifies you about required action on your mobile with real-time alerts, and you'll also find there's a new 19 litre waste water tank equipped with castors. This means you can empty some of your black water tank without having to move the vehicle.
Additional benefits interior
Comfortable and generously-sized sleeping solutions
Award-winning ambient lighting
Practical storage solutions
Award-winning iNDUS sanitation solution
EXTERIOR FEATURES
Clocking up the kilometres in comfort
Reach for the sky with the Bürstner Elegance and a Mercedes chassis as your base. With features like front wheel drive, ABS/TCS/EBD, and ESC (available in an optional upgrade), this vehicle is one of a kind! No matter where you're heading or how you plan on getting there, rest assured that the miles will come swiftly and safely on this ride.
Additional benefits exterior
Powerful and dynamic: Mercedes front wheel drive
Proven standard features: ABS, TCS, EBD and ESC
Reassuring and reliable: active brake assist
Practical feature that affords added safety: automatic headlights
92-litre fuel tank for long uninterrupted driving enjoyment
Heated, electric wing mirrors with integrated blind spot mirrors and adjustable