Our Top Picks Leading the Innovation for 2023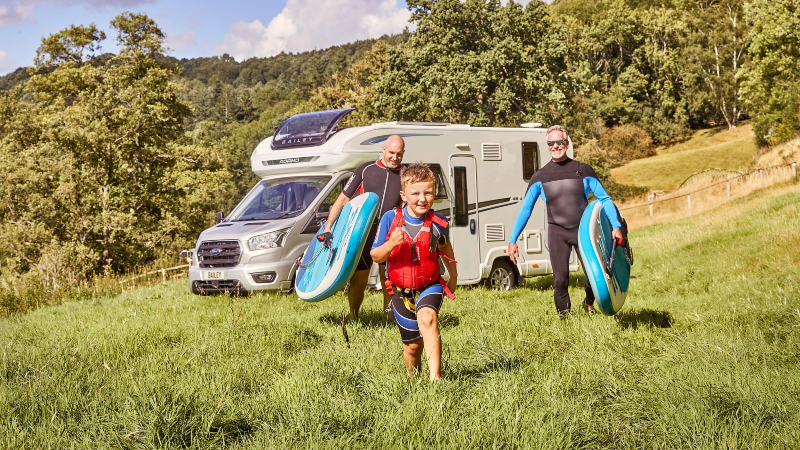 The 2023 season is here, bringing with is a vast range of new and innovative motorhomes. There's always plenty of interest when new vehicles arrive here at Cranham, so you'd be well advised to come and view as soon as possible! In this edition of our blog we'll look at a couple of choice picks when it comes to innovation, highlighting some of the key features and offering a 'starting point' guide for 2023…
1.    New Hymer Motorhomes
Hymer Venture S
This apparently space-age adventurer's vehicle, impressively launched at the Caravan & Motorhome Show at Birmingham's NEC last October, is one of the new Hymer motorhomes, and the most highly anticipated for the new season. With a compact length (6.46m) and narrow body (2.16m), on paper you might be forgiven for not expecting too much! Once you've glimpsed the photos or seen it in person you'll realise Hymer's Venture S is like stepping into the future – or, rather, driving into it! No wonder it won the Motorhome of the Year 2023 and Motorhome Innovation of the Year 2023 awards.
Striking Design
The choice between distinctive silver-blue-green or grey exterior is striking enough, elevating this off-roader way above the norm. But it's the interior and the stunning array of design and practical features which will ultimately impress. A curved glass wraparound infinity screen tops off the rear lounge, and the tailgate extends your social space as it opens out into a walk-on yacht-style sun deck, with a stunning view is always there to be had. The interior furnishings offer a cool ambience to complement the screen and deck, and a solid bamboo tabletop slides away under the seats.
Home-from-Home Living
When it's time to catch some sleep after a hard day of adventuring and a chilled evening of relaxation, a compressor inflates the Venture S's incredible pop-top roof in just a few minutes. A two-chamber system gives protection from noise, light and temperature changes, as you make your way to bed via a staircase to your bedroom area. Below it, is a bathroom (kitted with an optional ceramic toilet, washbasin, mirror and built-in cupboards, and which can be transformed into an even larger washroom with a floor-level shower), some office space integrated into the side wall behind the passenger's seat, and a well-fitted kitchen to meet all of your catering needs.
Ultimately, there is so much about the Venture S that will grab your attention – the sky really is the limit!
2.    Bürstner Motorhomes
Bürstner Lyseo Harmony 728 TD
It will be love at first sight with the Lyseo Harmony 728 TD as, yet again, Bürstner motorhomes has come up with a proper dreamboat. There's no compromise on style, offering a true home-from-home feel in a vehicle designed to enhance the on-the-road lifestyle. With space-saving solutions and some great features, the Lyseo Harmony TD is a four-berth motorhome with rear single beds and an electric drop down bed – so comfort and convenience meet in great fashion. There are plenty of other interior features to keep you loving life on the road, including a sunroof and the fully equipped kitchen with a hob, oven and fridge. Driver features include ABS, cruise control, cab air conditioning, reversing camera and sat nav. Take a look at the range today.
3.    New Bailey Caravans 
Bailey Pegasus Grande SE Ancona
Over to caravans, now – and new Bailey caravans have always set pulses racing. It's no different in 2023, with the five-berth Pegasus Grande SE Ancona offering a stack of features designed to ensure that on-the-road family life is as full of comfort as it is back home. The vertical front skylight (surrounded with integral task lighting) offers a fantastic aspect when parked in a beauty spot, and the front dinette is a great spot from which to take in the view.
The kitchen area is fully kitted (dual fuel hob and oven featuring electric hotplate and three gas burners, plus microwave and fridge), so catering for your brood won't be an issue. The white gloss shower cubicle is a refreshing environment with bi-fold partition door and integral lighting, washroom hand basin and mixer tap plus integrated storage cupboard. All of your on the road needs are covered! When it's time to settle down for the night the end lounge at the rear of the vehicle is perfect for relaxation. There are also five berths, so everyone should find their own spot and get a good night's sleep!
We're proud to be a Bailey caravan dealer and you can find more info on this model, plus many others, on our website.
Other than these two picks, there are many other 2023 models in stock (including the CV600 from Carado motorhomes, another manufacturer we love to stock). Find out more about them today by browsing our website. Here at Cranham we are always more than happy to help with any queries, and we want to make sure you get the motorhome, campervan or caravan that's just right for you and the lifestyle you want – so simply get in touch…