The new Roller Team Auto-Roller is on the Ford chassis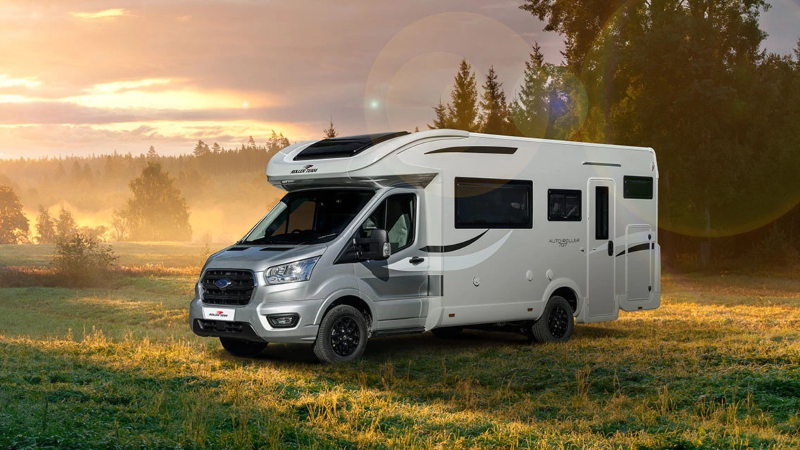 When you're looking for new motorhomes in Essex, come to Cranham. We're pleased to offer plenty of great vehicles available to order for the coming season, including a new version of an old favourite. The new Roller Team Auto-Roller motorhome is now built on a Ford chassis, which means that 2023 motorhomers can enjoy the range like never before. Put simply, Ford is a name which represents a long and proud history of innovation and excellence in motor engineering, and so with the Auto-Roller's quality added in to the mix the result is a truly reliable top quality luxury motorhome.
There are three models available, and each is loaded with features and specification to make your time on the road comfortable and convenient as well as powerful and packed with performance. As ever with Roller Team motorhomes, there's a lot to recommend. Let's explore…
Three Auto-Roller's for 2023
Auto-Roller 707
This six berth model means plenty of space for the whole family to enjoy, though it's homely enough for cosy nights together. The combination of fixed and fold-away beds means the internal space isn't compromised and that everyone's comfort is assured. The main bed is a drop down set over the lounge area and accessed via a ladder,  with the convertible seating below also offering sleeping space. Rear bunks run across the width of the rear of the 707, and each has a mini window for light and air.
The spacious front lounge, in cream toned quality upholstery, offers a great social space. L-shaped settee seating gathers around the extending table, so there's also a good amount of surface area available for mealtimes. The L-shaped kitchen in the mid of the Auto-Roller 707 features a sink, a gas oven plus three-burner hob and a fridge with freezer compartment sitting opposite the cooking area. There's also plenty of storage space for all of your domestic utensils and necessaries.
The washroom features a toilet, a shower tray and rectangular basin – with the tap head pulling out to become the shower head (there is a wall bracket to hook it). A rooflight and an opening window mean this area, though compact, always feels fresh.
The Roller Team Auto-Roller 707 offers great value for families looking to take themselves out onto the road for breaks and holiday adventures.
Auto-Roller 746 and 747
The Roller Team Auto-Roller 746, like the 707, is a quality six berth motorhome offering an amazing mobile space for families to enjoy time away from home, in their home from home.
The lounge is at the rear of the 746, in a U-shaped configuration and featuring high comfort bench seating – though there is a second social space towards the front, just behind the driver's cab. Perfect as a mealtime area, this is complemented by the kitchen area which comprises a sink, an oven with a grill and gas hob, a fridge with freezer compartment and plenty of storage options.
The genius feature of the Roller-Team Auto-Roller 746 is that there are no fixed beds down on the floorplan – so two of the vehicle's three social seating areas convert into beds. An overcab bed completes the sleeping arrangements, and with so much comfort on offer it's no surprise the 746 is so popular. The 747 is broadly similar to the 746, with the leading difference being the overcab bed is replaced by an electric drop down bed.
With plenty of space on offer, and a highly convenient use of some of it for the necessities of motorhome life, the 746 and 747 are sophisticated and enjoyable additions to Auto-Roller's suite of top quality motorhomes. With both vehicles coming in at under 3500kg you will be able to drive on the UK's standard category B driving licence.
In short, what's great about Auto-Roller motorhomes?
The new Roller Team Auto-Roller motorhome range is a fantastic marriage between aesthetic quality and precision engineering, in common with all new Roller Team motorhomes, with each vehicle designed to twin performance and comfortable practicality. Each features a signature feeling of Italian flair throughout the vehicle, and they are perfect for those families which like to spend time together socialising when they're on the road.
Here at Cranham, quality motorhomes dealers in Essex, we're pleased to be able to offer these three great models from the Roller Team Auto-Roller range of family motorhomes. For more information don't hesitate to contact us, and one of our friendly team will be more than happy to help.