Types of Motorhome: The Difference Between A-Class and Coachbuilt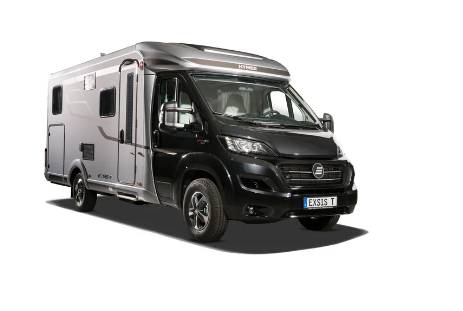 It can be a little confusing when you're on the lookout for a new vehicle. There are so many motorhomes, campervans and caravans available that first of all you have to narrow that choice down to what you actually want. Then, once you've decided it's – for the purposes of this blog – a motorhome that you're after, you'll find a whole heap of information coming at you left, right and centre. Specifications, features… You'll hear things you've never heard before!
Amongst the terms you'll hear over and over are 'Coachbuilt' and 'A-Class'. These are important to distinguish between and understand, as the difference could have a bearing on your final decision as to which motorhome you're going to buy. In this edition of our blog we'll explain the basic differences.
1.   Coachbuilt Motorhomes
Coachbuilt is to do with how the motorhome has actually been constructed. It means the manufacturer has used a pre-existing cab and chassis and built up the motorhome onto that. Literally, building a coach onto a chassis – so the front of a coachbuilt vehicle will look like the front of the van it has been built on.
Coachbuilt motorhomes are made from fibreglass, aluminium and wood and are wider and taller – and the extra space the dimensions afford is very useful if you're planning on being out on the road in the vehicle for an extended length of time. It's possible to live relatively comfortably in a coachbuilt motorhome (whereas a standard panel van conversion is more suitable for quick breaks or day to day running). A coachbuilt's interior is likely to contain just about everything you need – seats, doors, relaxation / social space, storage plus sleeping, cooking and washing areas.
Within the coachbuilt class there are two types.
a) Low profile: This type of coachbuilt motorhome will handle slightly better than an over-cab, and will have more storage in the living area to make up for the lower capacity above the cab itself. Low profiles tend to be an average of 9 feet tall and 28ft long. Low profiles are great to accommodate small families and can be driven on a Cat. B UK driving licence (ie. standard car licence).
b) Over-cabs: This type of coachbuilt motorhome is larger, usually, and one of the main 'selling points' is that it can accommodate between two and six people as there is additional sleeping room in the section located quite literally over the driving cab (which can also be used for storage). Over-cabs tend to be approx. 11ft tall and 20ft long.
2.   A-Class Motorhomes
The driver's 'cab' in an A-Class motorhome is contained within the vehicle itself. A-Class motorhomes are built chassis upwards, so the entire vehicle is constructed 'as one unit on the chassis (as opposed to having a self-contained area stuck on the back of a pre-existing cab / chassis. The cab area stretches across the full width of the motorhome, and both seats usually swivel around so that they can face into the social space of the interior.
The large windscreens of A-class motorhomes give an unrestricted view of the road ahead and the environment around it. A-Class motorhomes are great for larger families, though they tend to be a fair bit more expensive than coachbuilt due to their generally increased size (averaging 13ft tall and 30ft long, and over 8ft wide). You will also need a 3.5-tonne plus classification on your driving licence.
Here at Cranham's we stock a wonderful array of luxury motorhomes of both classes – so why not browse our website to find one you like. Or, better still, come and visit…