Why Bailey do Motorhomes Prove to be so Popular?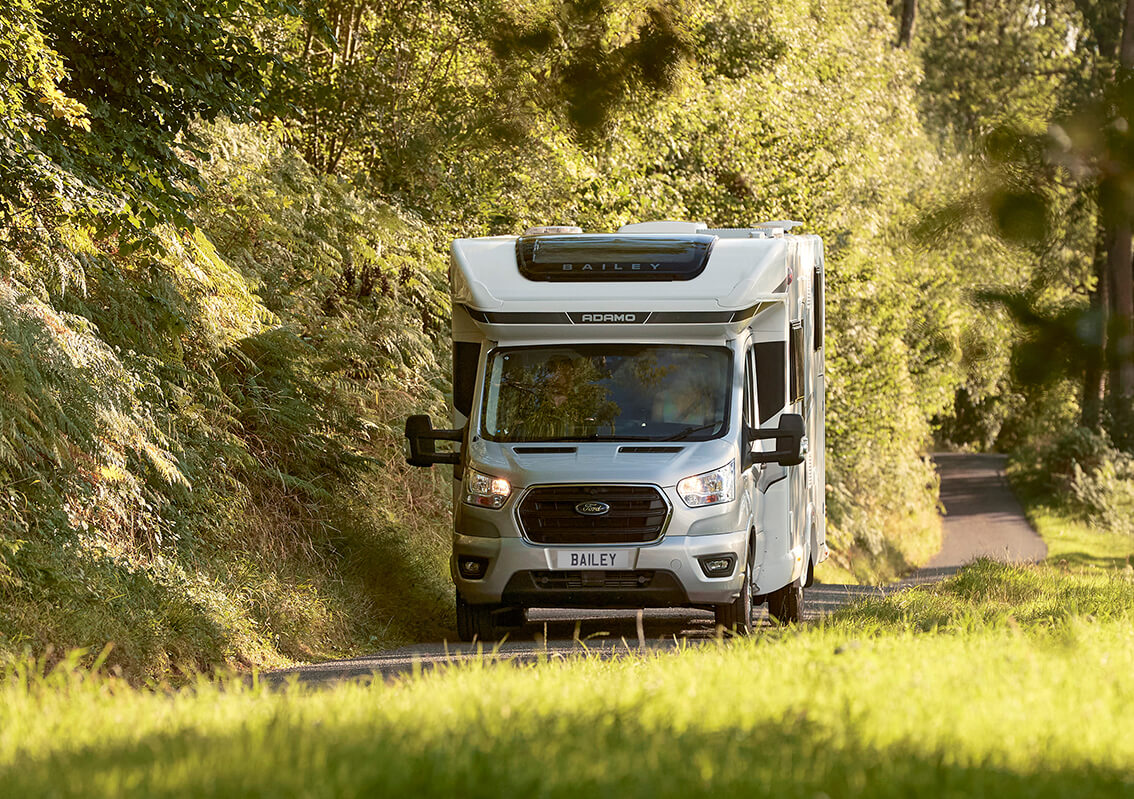 With over 70 years of innovation and expertise, it's fair to say that Bailey motorhomes are amongst the best the UK has to offer. Built out of Bristol since the 1940s, in a production facility widely regarded as one of Europe's best, Bailey motorhomes have always been carefully made and rigorously tested. They offer great performance with no compromise to luxury, and Bailey customers have the chance to experience the best of the motorhoming lifestyle at respectable price points.
The two current ranges – Adamo and Autograph – are Bailey's premium offers.
1.   The Bailey Adamo Motorhome Range
With a Ford chassis and cab and three flexible layouts, all Bailey Adamo models have been designed to meet living and travel needs for up to eight people. They have four travel seats, twin berth beds (dependent on the model), a fully equipped kitchen and an externally accessible onboard garage space so that your outdoor gear is kept separate from the living quarters. Plus, gas heating and cooking, plus a solar panel which enables 'off grid' adventures…
Adamo 69-4, the Adamo 75-4I and the Adamo 75-4DL: These models are different sizes, but each is packed with features including fully adjustable upholstered Captain's seats with armrests and integrated headrests in the cab area, plus a 'flexi lounge' (with convertible travel seats plus electrical pedestal table with multidirectional swivel). The kitchen features a 141-litre tower fridge with freezer compartment and a combi oven, grill and hob plus drop-down worktop extension.
With different arrangements and orientations for the twin berths in each model (with the 69-4 featuring an easy to operate electric-powered three position drop-down bed), there's something to suit all aesthetic and privacy requirements. For further information on the individual specifications for each different model, check here.
2.   Bailey Autograph Motorhome Range
Eight different models are available and they're all 'low profile' – the Autograph 69-2, Autograph 74-2, Autograph 74-4, Autograph 79-2F, Autograph 79-4F, Autograph 79-4I, Autograph 79-4T and the award-winning Autograph 81-6, which won Best Six-Berth Coachbuilt Motorhome over 8 metres in the Motorhome & Campervan Design Awards 2022 as well as the Best 6-Berth from Practical Motorhome in 2021). Whichever model suits you; this is a versatile and upmarket motorhome based on a Peugeot engine and AMC chassis, presenting a host of features across the range.
Fully adjustable driver and passenger seats with twin upholstered armrests and Dometic reversing camera make the driving experience as convenient as possible, but it's the living quarters which make the Autograph truly special. From the two-berth 69-2 to the 6 berth 81-6, the variety of available living and sleeping configurations has been designed to suit every aesthetic and privacy need. The Bailey Autograph provides a true home-from-home.
Ergonomically designed rear travel seats and a choice of soft furnishings (across the range) mean comfort, and the kitchen and bathroom configurations mean practicality. With touch-screen friendly user control panels and a pre-wired for Wi-Fi option, the Bailey Autograph models provide all the luxury you could need to truly enjoy your leisure time. For further information on the individual specifications for each different model, check here.
Can I buy a used Bailey?
You certainly can! It's not always necessary to buy your motorhome from new. Opting to buy a used motorhome can be a great way to stretch your budget – and you will, of course, end up with a higher quality motorhome for the amount you might have spent on a new model.
Any worries you might have about the condition of a used motorhome should be allayed easily. In truth, it's very rare for anyone to live in a motorhome all 52 weeks of the year, so the mileage will be much lower than you might imagine as, other than in exceptional circumstances, the vehicle will only have been out on the road for a limited amount of time. Plus, realistically, nobody makes a sizeable investment in a vehicle of this kind and doesn't look after it. It will have been regularly cleaned and maintained. When you buy a used motorhome it's a certainty that it will have been really cared for – after all, motorhomes are the pride and joy of their owners!
Here at Cranham's we currently have a handful of used Bailey motorhomes in stock, and these can be driven away today! Remember, we are also an official Bailey Dealer so will be getting in new Bailey motorhomes stock for 2023 as soon as it is available.